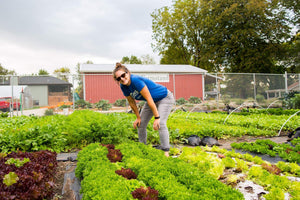 Inspiring the health of humans, our community, and the land through urban farming.
We are an urban farm founded in 2017 and located in Des Moines, Iowa. We specialize in growing annual vegetable crops and flowers focusing on salad-oriented products. Sustainable and regenerative agriculture is the foundation of our farm model.
What We Do
What started as an urban farm has evolved into so much more! We are a community destination to support local food. We make farm-inspired products that are available in grocery stores throughout the state of Iowa. We host farm-to-table dinners and even have an on-site AirBnB!
Our Story
Jenny started Dogpatch Urban Gardens in the fall of 2015 with the help of her husband, Eric Quiner.  The main reasons for starting the farm are to promote health/nutrition, enhance community, environmental conservation as well as instill family values for their sons.
Meet the Team
We are blessed to have an amazing crew of individuals that help our farm business in so many ways!
Dogpatch In the News
Explore the latest Dogpatch news through these podcasts, interviews, videos, magazine articles, and television features.
Want to learn more?
If you have questions or comments we'd love to hear from you!
This section doesn't currently include any content. Add content to this section using the sidebar.