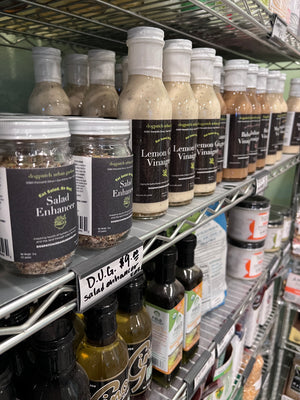 Des Moines' locally-minded specialty foods store
Welcome to the DUG FarmStand
Locally grown produce plus a whole lot more!
The DUG FarmStand is your one-stop-shop for supporting local growers, makers, and producers.  We love stocking our shelves with items grown by farmers with similar values/missions as ours.  We also are expanding our product lines to offer unique pantry items that promote business we enjoy and want to introduce to our shoppers. 
Think of the DUG FarmStand as a specialty foods store curated by FarmHer Jenny!
Can't make it to the farmstand? No worries; you can shop online 24 x 7 in our secure online store.
What our FarmStand Customers Say
★★★★★

I had your veggie wrap this weekend and loved t!

Tricia E

Des Moines, IA
★★★★★

I had a salad at lunch with some of your lettuce. So fresh and crisp - just the way I like it.

Diane B.

Des Moines IA
★★★★★

I cannot believe we found yellow watermelon at DUG yesterday. I live to find yellow one's. It was so delicious with supper, late night & breakfast this morning! Thank you.

Gogi V

Johnston, IA
★★★★★

Thanks for such a wonderful flavorful spring, summer and fall. My mother just passed away last Monday but before that she was "nagging" we have to get to Dog Patch before Thanksgiving. We love all you offer. Enjoy Thanksgiving and the winter season. See you all next spring!

Linda M

Des Moines, IA
★★★★★

I shopped this morning right when you opened - so beautiful. Glad you're so close to our place.

Claudia K.

Des Moines, IA
★★★★★

We just wanted to say "Thank You!" for adding the asparagus to our pick-up bag last Saturday. Very kind of you! The produce was great! We look forward to doing business with you in the future...it's worth driving from West Des Moines! Keep up the fabulous work!

Bev & Mike

West Des Moines, IA
★★★★★

Sure enjoyed visiting your gardens this year! See you when I get back next spring. Stay safe .

Gini L

Palm Desert, CA
★★★★★

I love the flowers! Love the pairings and the heights. Love the look!

Tina H

Oak Park, IL
★★★★★

I just wanted to send a quick note and let you know how impressed I was with pick up this morning. First of all, I was so happy to see you and your staff wearing masks. Secondly, the contactless pick up went so smoothly. I loved that I didn't even have to open my window. Thank you for making it possible to safely get fresh, local foods during this time.

Satisfied Online Store Customer

Urbandale, IA
★★★★★

I love driving by this and seeing the perfect rows of beautiful plants. Makes my heart sing!

Andrea C

Des Moines, IA
★★★★★

Love all the food I buy from you.

Barrie L

West Des Moines, IA
★★★★★

Just picked up some veggies. It's on for tonight! Cannot beat fresh local! Thanks!

Andy S

Altoona, IA
★★★★★

Came over today got corn, tomatoes. lettuce, and squash at your stand had such a pleasant talk with the young lady working she's so informative and sweet and just nice.

Tammy B

Des Moines, IA
★★★★★

Add customer reviews and testimonials to showcase your store's happy customers.

Author's name

Los Angeles, CA
★★★★★

The grandchildren are here for a two week visit. Visited and picked out two Iowa pumpkins for carving. Thank you!

Ann L

Des Moines, IA
★★★★★

Love the way your produce is displayed. It looks beautiful.

Anonymous
Hours & Location
Dogpatch Urban Gardens FarmStand
5085 Meredith Drive
Des Moines, Iowa 50310
Hours:
Wednesday & Saturday from 10 am - 4 pm
This section doesn't currently include any content. Add content to this section using the sidebar.