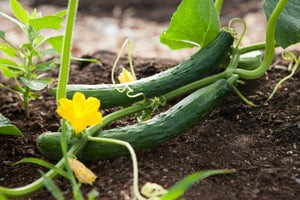 Fruits & Vegetable Plants
A wide variety of food crops for your home garden
Fruits & Vegetable Plants
Fruits & Vegetable Plants
Want to grow your own food? Look no further than the Dogpatch Garden Center! We have a wide variety of food plants available to grow a lush garden. We have fruits and veggies that will mature throughout the local growing season. From lettuce to watermelons, we have you covered!
Our Fruits & Vegetable Plant Offerings
We are especially pleased to include a wide range of our trademark greens in our veggie plant offerings this season. In addition, we are growing beans, peas, cukes, zucchini, pumpkin, winter squash, melons, plus a whole lot more. Download our Fruits & Veggies Lookbook for more information.
"I hand select the fruit and veggie varieties we grow as well as the seed source. And we've used many of the same seeds in our Dogpatch garden plots over multiple growing seasons. So I know they'll thrive and produce well for you here in the Des Moines metro region."
farmer Jenny
Explore all Dogpatch Garden Center Products
Fruit & Veggie Plants
Tools & Supplies