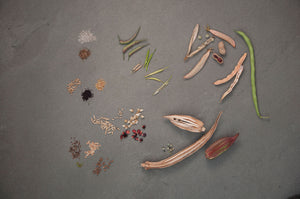 Organic seeds from our friends at the Seed Savers Exchange in Decorah, Iowa
Seeds
If you're like us, you love to support local businesses; especially when you can relate to their mission. Which is why we are proud to feature seeds from the Seed Savers Exchange in Decorah, Iowa.
Your Local Source for Organic and Heirloom Seed Stock
Since 1975, Seed Savers Exchange has grown, saved, and shared heirloom seeds and led a movement to both protect biodiversity and preserve heirloom varieties. Their seed bank now houses more than 20,000 rare, open-pollinated varieties.
By stocking their seeds in the Dogpatch Garden Center, we can support their mission while getting their seeds in gardens throughout the Des Moines metro.
Get your Organic Seeds at the Dogpatch
We stock a wide array of organic vegetable, flower, and herb seeds from Seed Stock Exchange at the Dogpatch Garden Center. But be sure to come in early for the best selection because they won't stay on the shelf for long!
Explore all Dogpatch Garden Center Products
Fruit & Veggie Plants
Tools & Supplies