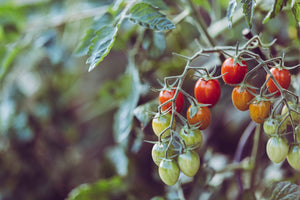 Nothing says summer in Iowa like tomatoes plucked from your home garden.
Tomato Plants
Tomatoes are some of the most flavorful and exciting things to grow throughout the summer months here in Iowa! If you have ever experienced the taste of tomato picked straight from the vine you know what I mean, and you can never go back to a store bought mater! Grow your tomato plants nurtured by our Dogatch experienced gardeners and you'll enjoy healthy and tasty treats all season long. And if you're in need of assistance, just stop by and one of our gardeners will be glad to help.
Our Tomato Plant Offerings
This season we are featuring a number of heirloom and specialty tomato varieties. In addition, we are growing cherry, red slicer, beefsteak, roma, plum, paste, and container varieties. Download our Tomato Plant Lookbook for more information.
"I hand select the tomato varieties we grow as well as the seed source. And we've used many of the same seeds in our Dogpatch garden plots over multiple growing seasons. So I know they'll thrive and produce well for you here in the Des Moines metro region."
farmer Jenny
Explore all Dogpatch Garden Center Products
Fruit & Veggie Plants
Tools & Supplies