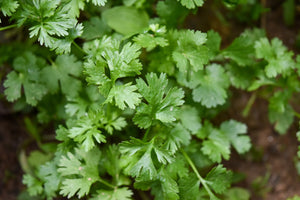 Every cook needs fresh herbs in their kitchen/garden!
Herb Plants
Cooking with freshly picked herbs and spices from your home garden is a wonderful and tasty experience. Start with herb plants nurtured by our experienced gardeners and you'll enjoy healthy and tasty treats all season long. And if you're in need of assistance, just stop by and farmer Stephanie or one of our other gardeners will be glad to help.
Our 2023 Herb Plant Offerings
This season we will feature a number of basil varieties, chives, cilantro, parsley, mints, thyme, sage, rosemary, and tarragon, among others. Download our Herb Plant Lookbook for more information.
"I hand select the herb varieties we grow as well as the seed source. And we've used many of the same seeds in our Dogpatch garden plots over multiple growing seasons. So I know they'll thrive and produce well for you here in the Des Moines metro region."
farmer Jenny
Explore all Dogpatch Garden Center Products
Fruit & Veggie Plants
Tools & Supplies