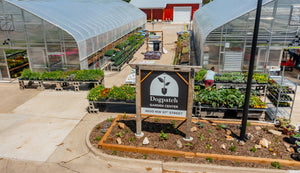 Closed for the 2023 Season
Dogpatch Garden Center
Think of the Dogpatch Garden Center as Des Moines' newest place to get supplies for your garden/growing needs. Our greenhouses are filled with a wide variety of plants, seeds, soil, fertilizer, and tools (even specific tools we use in our urban farm). Our goal is to offer a full array of items for you to grow in your garden, landscape with, and even decorate your home.
Closed for the 2023 Season
Explore what the Dogpatch Garden Center has to Offer
We proudly offer the highest quality organic seeds, organically grown herb, vegetable and flower plants, as well as the tools and supplies you need to make your home garden come alive!
Explore all Dogpatch Garden Center Products
Fruit & Veggie Plants
Tools & Supplies
This section doesn't currently include any content. Add content to this section using the sidebar.